---
Our Attorney's At the Law Office of Rodney W. Wickers Provide Litigation Legal Services for a Variety of Legal Issues Including Breach of Contract, Elder Abuse, Business, Real Property, Employment Law, Trials and Appeals.
We provide litigation services for a variety of legal issues including breach of contract, elder abuse, business, real property, and employment law. Each area of law requires a different approach due to the problems represented by each type of case. Each subject area is discussed separately to address those individual case needs. We have been successful in litigation both in the Courts and in settling our client's cases without Trial. We also handle appeals.
COVID-19 NOTICE FOR OUR LAW OFFICE CLIENTS AND POTENTIAL LEGAL CLIENTS:
The Law Office of Rodney W. Wickers is taking all precautions necessary to prevent the spread of the Coronavirus. As a result of the recent events, we initiated a plan to allow staff to work from home, which began on March 15, 2020. We will continue to work diligently on our client matters as we "shelter in place" at home. We will also continue to be available by telephone, electronic mail and Skype for current and new legal needs during normal "business" hours as we shelter in place. If you are a potential new client, and would like to schedule a meeting via telephone or Skype, please do not hesitate to contact us at (310) 540-2520 or at info@wickerslaw.com to set up a virtual meeting.
We intend to continue to provide efficient and professional legal services to our clients and look forward to this Coronavirus crisis coming to an end.
Please see the menu above for more information about the services we provide. If you would like a free telephone consultation on any of these types of legal issues, please contact us at (310)-540-2520.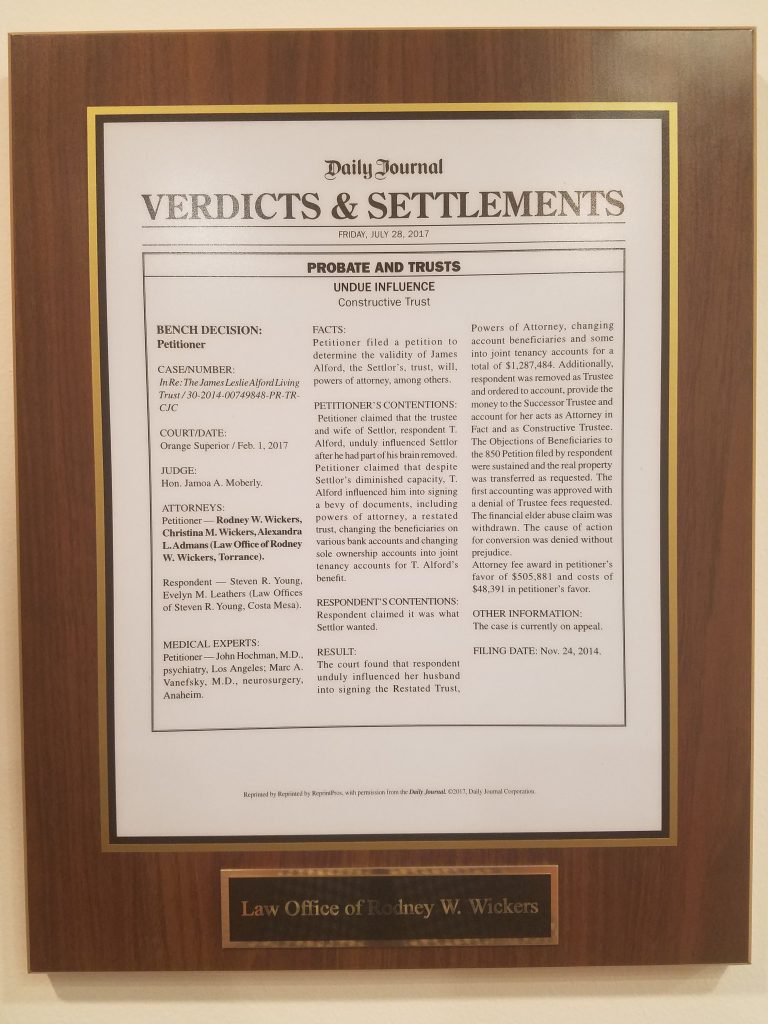 Here is a review posted on Avvo.com